We are pleased to announce the launch of our heritage DVD "Following in Their Footsteps."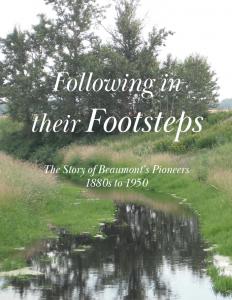 It will take place on Friday, July 31st at 9:30 a.m. at the City of Beaumont Library. Heritage Society members will be on site until 6 p.m. when the library closes.
A limited number are in the DVD format. The more popular MP4 version is also available, on USB cards.
Both sell for $25 cash, GST where applicable. They are available at the City of Beaumont Library (exact change please) and at the Painted Door on Main Gift & Gallery.
With over 500 images and countless voices from the past, we present the story of the early people of Beaumont. Below is a link to our Beaumont 125th Anniversary song, written and performed by local artist Keith Wourms. It's time to celebrate!
Beaumont 125