Phase 2 of our St. Jacques Heritage House Museum has begun. We are looking for more sponsors for the house and property. http://www.beaumontheritage.com/wp-content/uploads/2020/07/Phase-2-Fundraising-Details-SEP29-19.pdf
The following 9 areas are still available for a minimum donation of $5,000:
The Attic Storage Room – Second floor
Heritage Center Office, Storage & Utility Room and the Washrooms – Basement level
Memorial Floral Garden, Heritage Shrub Garden, Victory Vegetable Garden, and Sidewalks/Parking Lot – Outdoors
~~~
Our project is registered with BENEVITY. We recommend this link, provided by ATB Cares. The Alberta Treasury Branch will match 15% of donations made to Alberta, non-religious charities, up to $20,000 per month and $240,000 per year.
The best time to make such a donation would be at the beginning of the month. Tax receipts will be emailed to you from immediately (See attached sample).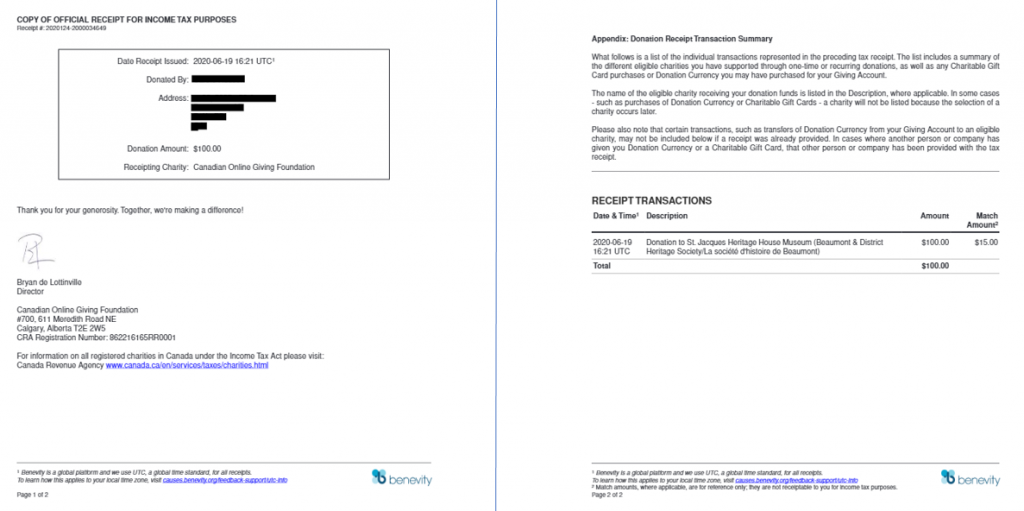 This is a great way to support your choice of Charity and also include ATB in doing the same.

https://atbcares.benevity.org/community/cause/124-822203386RR0001/project/3SZZ5SLL5D